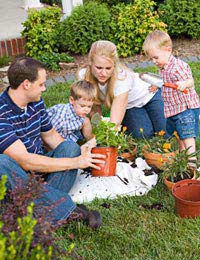 Children need good, safe garden tools. The plastic toy gardening tools for kids break and adult gardening tools are not very safe for children to use. You should never allow children to use tools that are too big for them to handle as this could cause possible injury. Instead, provide children with the appropriate sized gardening tool for the job and teach them not only how to use them, but when to use them.
Also, make sure the tools are age appropriate. For instance, if you have toddlers, then the small, plastic toy gardening tools would, in fact, be a better choice.
However, older children should use the larger, kid-sized gardening tools. There are child-sized gardening tools for nearly any task in the garden, from lightweight digging tools and rakes, to hoses and wagons. Smaller gardening tools that are specifically made and adapted for children not only make garden tasks easier but also more fun.
Good quality, child-sized tools also convey to children that their contribution to the garden is valued and appreciated, which also helps create a successful gardening experience.
Although kids love using tools, they do not often understand the dangers some gardening tools pose. Be aware of their limits. Children tire easily so when they help out with gardening chores, make sure they don't become too exhausted.
Be careful with sharp gardening tools and make certain your children know which tools are safe for them to use and those that are not. In fact, it may be a good idea to keep any unused or unsafe gardening tools put away, out of reach from children.
Parents should always keep young children away from any outdoor power equipment as well. Don't permit children to operate garden machinery, such as tillers, trimmers, or lawn mowers. Be sure that power tools are turned off and inoperable if they must be left unattended for any reason.
Keep in mind that young children move around quickly; always be aware of where your kids are located in the lawn or garden, especially when mowing. Never allow children to use any gardening tool without proper supervision.
Another important aspect of gardening tool safety is proper storage. Teach the kids to always put away hoses and other gardening tools after each use. Leaving gardening tools lying around not only poses safety issues, such as tripping and falling, but also causes them to deteriorate or rust if they are left in the weather elements for too long.
Keeping their gardening tools in a regular spot, such as a small gardening shed, can help kids develop good organization skills as well as provide them with further safety. The kids will also be more likely to use them on a regular basis if they know where to find them. When children are taught about the proper use of gardening tools and given some of their very own, they are more likely to enjoy helping out with gardening chores.
Fun Learning Activity for Kids
Create a fun "Tool-Time" matching game to help children learn about different gardening tools and safety. Scour garden supply catalouges and magazines with your children. Look for and cut out pictures of various gardening tools and the use or task associated with them. For instance, a shovel might go with a picture of dirt, a watering can with a flower, and a glove with a hand or weed. Try to keep it basic enough for them to understand easily, yet still get the point across. Glue each picture to an index card and allow them to match up each tool with its designated purpose in the garden.