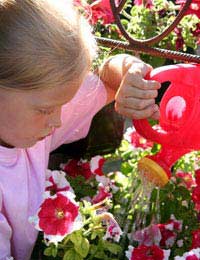 Local flower shows can be great fun. Even if your kids aren't particularly competitive about their gardening, these events offer a fantastic opportunity to meet new people, learn a lot about the hobby and just talk plants. If, on the other hand, they are fiendishly keen on collecting prizes and awards, then even the smallest of local shows is likely to have something they can enter and have at least a chance of winning – and for many of the bigger ones, they really could end up being spoilt for choice.
Unless you yourself have done it all before, preparing for flower shows can seem a bit bewildering, especially if, like most parents, there's a mighty powerful element of familial pride demanding that you do your absolute utmost to ensure your kids' success! The good news is, however, that with a bit of planning and forethought, it doesn't have to come down to either a mad frantic rush the night before, or a case of trusting to luck. Like most things in life, there are ways to make things easier on yourselves – and most importantly, give your children the best chance of coming away victorious.
Here are a few quick tips to help.
First, a Spot of Espionage
Try to go to at least one of the other shows in the area before yours. It isn't always possible to do this, but if you can it's a really useful way for your kids to see the way things work and the sort of standard they'll be expected to achieve and it also gives you a chance to suss things out too. Talk to the parents of the kids who are taking part – you'll probably be surprised at how helpful they can be, especially if your own youngsters are just beginning to show an interest. Don't take it personally, though, if they suddenly become a bit less forthcoming when yours start winning everything in sight!
It's worth speaking with the adult competitors too, if they seem to have a moment or two to spare on the day. Many a useful tip can be picked up this way, ranging from which varieties of a particular plant do best, to the judge's favourite colour – and you never know when that sort of information might come in handy! While you're on the scout for good tips, don't forget to speak to the local horticultural society too. You may find they have a children's section your kids can join, but even if they don't have a specific junior section, there's always going to be loads of useful advice to be gained.
Do Your Homework
If ever there was a time to do some careful research, it's now! There are two key areas where doing your homework well ahead of time really can pay off big time on the day of the show.
Firstly, especially when your kids are only starting, find out which varieties of plants are the easiest to grow, both generally and in your particular area. There's plenty of time for them to try their hands at tackling some of the more difficult or ambitious kinds once they've got a bit of experience, and gained confidence – if not a few wins along the way too.
Secondly, reading the show schedule really is the key. Every year at shows up and down the land, otherwise beautiful entries are disqualified because their owners just misread the rules; it really is that simple – and brutal. Avoid the inevitable tears, and make sure you know what's what, even if junior is utterly convinced he/she's got it taped.
Increase Your Chances
It's also a good idea to have a thorough look through the whole of the classes and competitions in the schedule and see if there's anything else your youngsters might like to enter. As the old proverb says, it's never a good idea to have all your eggs in one basket, and having a good number of entries increases your chances that at least some of them will do well. Some shows have awards for the number of entries made by individual children or families, so it really does pay to know that schedule backwards!
It obviously goes without saying that any containers, ribbons or other items necessary for the final entry need to be chosen carefully and cleaned long before they're needed – so if you're going to have to arrange to borrow something, don't leave it too late. A winning exhibit can never be rushed, so give yourselves time to get everything right – from the time taken to make sure it complies with the rules, to those extra few minutes spent staging it on the day. Then, although everyone's sure it's perfect, there'll be enough time to step away for a moment or two and still be able to go back for that last-minute check.
OK, now all you have to do is lurk nervously with all the other hopeful mums and dads and wait for the results to be announced; good luck!