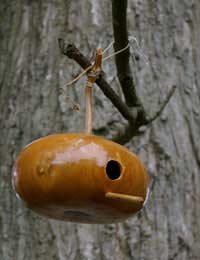 Kids have a special fascination with birds so inviting them into the garden is a great way to teach children all about them. Besides making the garden an attractive place for birds using a diversity of plants they also require shelter, food, and water. Not all birds make their homes in trees or bushes. Some birds actually prefer the comfort and safety provided from birdhouses, especially those who have lost their homes because of foresting and building construction. Birdhouses offer satisfactory protection against harsh weather conditions and predators. They also provide ideal locations for birds to raise their young.
Rather than purchasing a birdhouse, why not help the kids to make one instead. Not only will they take pride in their workmanship, but imagine the excitement and wonder the kids will feel once they discover a family of birds has moved in. A birdhouse doesn't have to cost a lot either; many of them can be easily constructed from items already on hand, which is also a plus for the environment. Kids can build a birdhouse out of materials such as gourds or old milk/juice cartons.
Making a Gourd Birdhouse
Gourds are closely related to pumpkins and fun to grow in the garden, as they come in many shapes, sizes, and colours. Gourds make excellent birdhouses and are easy to make. Gourds can make good homes for a variety of birds—from martins, swallows, and wrens, to bluebirds, woodpeckers, and screech owls. Of course, the bird that chooses to nest in your gourd will be dependent on the size of the gourd, its entrance hole, and its location in the garden.
Typically, bottle-shaped gourds work best, especially those that are 5 to 12 inches in diameter. Harvest your birdhouse gourd once the vine has withered, leaving at least an inch of the stem attached. Tie a length of twine around the stem and hang the gourd in a sunny, well-ventilated area to dry out. Keep a check on the gourd over the next few weeks. Once it becomes hard, and the seeds rattle when shaken, your gourd is ready to become a home for birds.
Using a drill, make an entrance hole in the centre of the gourd approximately 1 ½ to 2 inches across (note this varies depending on bird species). Also, add some small drainage holes in the bottom, and two in the top for hanging later. Allow your child to remove the seeds using a long-handled spoon, then thoroughly wash the gourd out and let it dry. Run a length of wire through the top holes and hang the birdhouse as is or let your child decorate it. This can be done by first sanding it smooth with a fine steel wool pad and wiping clean. Let your child paint the gourd and once it's dry follow up with a couple coats of polyurethane. Hang the birdhouse at least six feet from the ground in a sheltered location of the garden.
Making a Milk/Juice Carton Birdhouse
Find and clean, 4 litre, paper juice carton and let it dry out completely. Help your child staple the top closed and add some small drainage holes along the bottom of the carton with a pencil. Then measure and cut a one-inch entrance hole in the front centre of the carton, approximately two inches up from the bottom. Place a slit below the entrance and gently slide an ice-lolly stick (or similar object) through for use as a perch. Add two more holes in the top and run wire through for hanging. Allow your child to paint the birdhouse or glue embellishments on instead such as twigs, small shells, buttons, etc. Add a coat or two of polyurethane and hang the birdhouse from a small tree or porch eave.
Attracting Birds to Your Garden
In keeping with the use of ordinary items, help your child lure birds to the garden and new birdhouse by supplying water and food. A simple birdbath can be made from a shallow saucer or dish. Create some tasty bird treats with pinecones. Send your child on a scavenger hunt for various pinecones (3 or 4). Tie some string to the top of each one, then spread a jar of peanut butter on a plate and have your child roll the pinecones in it, followed by some birdseed (in a separate dish). Like wise, you can mix ½ cup of lard or suet with 2 ½ cups of uncooked oats instead of using peanut butter. Cover the pinecones in the mixture followed by sunflower seeds. Hang the pinecone feeders from nearby tree limbs.
Fun Bird Facts
Did you know that the smallest bird is the Bee Hummingbird? It measures in at just over two inches long and weighs less than an ounce.