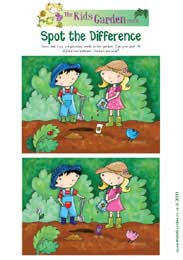 It's a lovely sunny day and Sean and Lucy are planting seeds in the garden. They're having a great time digging in the soil,and choosing what to plant. Some birds and insects are watching the children, do you know what they are?
We painted two pictures of Sean and Lucy. We thought they were the same but now we've looked at them again, we've spotted that some things that are different! Can you help us to spot all differences? There are 10 things altogether.
Print the picture and draw a circle around every difference you can find. If you're stuck, here are some of the things you might want to look at:
Colours
Patterns and Shapes
Missing Items
Why not Download the Spot the Difference Garden Puzzle and see if you can find all the differences.
For Parents
This activity is aimed at 3 to 7 year olds, it's a fun way to raise your child's interest in the garden and the environment, as well as developing their concentration, observation and recognition skills.
We have many other games and puzzles in the Download section which can be reached from the sidebar on the left. All our printable puzzles are completely free and are great to keep on hand for kids to do at any time, or as a fun rainy day activity.
All of our puzzles are supplied as a pdf so you'll need to have Adobe Acrobat installed on your system. If you haven't, Google it and you'll find lots of places and instructions on how to get it.