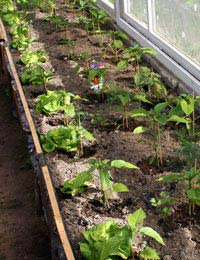 In a similar fashion to introducing your child to gardening, by encouraging them to set up a greenhouse with you, it will enable them to gain pleasure and foster a deeper understanding of the world round them and their appreciation of the natural environment all year round without being put off by any bad weather.
Benefits of Setting up a Greenhouse With Your Child
Gaining an understanding of the rudiments of ecology on a simplistic level and being able to be a part of helping to plant seeds and watch them grow will give children a much broader understanding of the world around them. They'll get to understand how seasonal cycles are important to nature's growth and about seasonal changes which bring about things like hibernation and of rebirth in the springtime.
You will be able to give them a better understanding about issues like climate change and the importance of nurturing and caring for things and of environmental and conservation issues. It doesn't matter how young they are either, they'll just be fascinated in watching the fruits of their labours flourish.
For example, they'll be fascinated in watching plants grow out of seeds they have initially planted and, by keeping things simple if they are very young, they'll still be getting educated about the issues already discussed above and are bound to want to ask you plenty of questions which will broaden their education and fascination with the natural world around them.
The Kind of Things Should You Be Introducing Them To
Children love to experiment with things like water and there'll always be insects around which will fascinate them. They'll get to learn about the importance of nutrition and of things like pollination and to learn about the relationships between things like plants and insects and how certain physical elements and climate conditions affect plant growth. And, as we all know, most kids love getting their hands dirty so setting up a greenhouse with them is an ideal opportunity for them to do that.
You can buy them a magnifying glass so they can see things like insects really close up or to identify different plants by their leaf structure. Encouraging them to keep a diary or even taking photographs of the progress of plants on, say, a month by month basis where they'll truly be able to capture the effects of growth will fascinate them or, if they're artistic, you might encourage them to make different paintings or drawings of particular plants or take leaf pressings.
All of these things should encourage younger children to get involved in greenhouse gardening and what's better than to encourage them to keep all of their findings in a scrapbook.
If they're familiar with using computers, and many children are even from a young age, you could perhaps help them to store their photographs and scan their drawings and paintings onto the computer and if they're into things like Maths, measuring and recording plant growth and keeping a record of that on the computer, perhaps on a spreadsheet will be another aspect of improving their education through greenhouse gardening.
Setting The Greenhouse Up To Suit a Child
The important things to remember is that children will get more out of the greenhouse experience if you allow them to plant, nurture and tend to their own plants for which they'll have sole responsibility for. Therefore, the design of the greenhouse should be set up so that plants and other things which they are working with are set at a suitable height so that they can work easily and safely. Get them some tools of their own too but familiarise them with how to use them safely.
Also, remember to teach them the importance of safety issues surrounding greenhouses in general and about the dangers of not tampering with things like any pesticides or using ladders etc. In fact, make sure there's always an adult who's there to supervise whenever they're working in the greenhouse.
There are plenty of other projects you can encourage your child to get involved with when it comes to greenhouse gardening. You might, for example, want to help them establish something like a wormery or a formicary for ants. The key thing is to explain things to them in a way they'll understand and appreciate and be prepared to answer any questions. In doing all of this, you'll be amazed by how much education and understanding they take on board, whilst enjoying themselves at the same time.