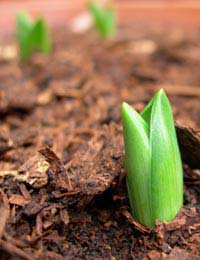 Talk about garden bulbs and most people instantly tend to think of spring flowers such as snow drops, crocuses and daffodils, but the range of summer bulbs is every bit as impressive – and they have their own particular benefits to bring to the kids' garden.
Choosing Summer Bulbs
When it comes to picking summer bulbs there's no shortage of candidates, from long established garden favourites such as begonias, dahlias, gladioli and lilies, to less well known examples including the stunning Agapanthus (Lily of the Nile), graceful nerines and the exotic looking, but hardy, Bletilla orchids.
No matter what type of flowers you and your youngsters want to grow, there should be something to suit – and add in the wide variety of summer-flowering tubers and corms and the choice becomes huge.
Whatever you decide to buy, it's well worth taking the time to examine the individual bulbs carefully, to make sure that you only select healthy ones – and as a general rule, large bulbs produce the biggest flowers. Pick bulbs that feel firm to the touch, without any hint of softness or sogginess and if they have already begun to sprout, check to see that the growing tips look strong and healthy. Look too for any signs of mould or fungus – often appearing as a green or greyish powder on the outside of the skin – and also avoid any that show obvious signs of damage.
Planting Tips
Bulbs are great for planting with young children, their bigger size making them much easier to handle than seeds – and a good deal less fiddly for little fingers – so everyone can get involved, which obviously makes for a lot more enjoyment all round.
Most of the summer bulbs do best in a warm well drained site – and have a tendency to rot if they get too wet – so a bit of soil preparation may be called for if the drainage isn't as good as it should be in the sunny spot you've picked for planting. It's important to do this ahead of time if it is necessary, since summer bulbs are best planted soon after purchase – though if there's a sudden cold snap in spring, when you'd normally expect to be planting them, it can be worth delaying until the soil has had a chance to warm up a bit.
With very few exceptions, the usual rule of thumb applies to planting summer bulbs; put them in at a depth of two or three times their own height, and two to three bulb-widths apart, and you won't go far wrong – though obviously it pays to check on the packet to make absolutely sure.
An alternative way of establishing summer bulbs is to either buy them a little later in the year as pot-grown specimens, or start them off yourself in the late winter or early spring in a greenhouse or cold frame to give them a little protection and then plant them out where you want them to grow.
Many of the summer bulbs are not hardy, so as the year moves on, they'll have to be lifted and stored safely before there's any risk of frost-damage. Shake off the loose soil once you've dug them up, cut back the dead and dying foliage, dry them over-night and then store them in a cool but frost-free place until the next spring.
Pot Planting
Although summer bulbs make an impressive mass of flowers when they're planted in large clumps in the garden, they're also great for growing in pots and containers, which makes them ideal for even the smallest of patios. Agapanthus, for instance is perfect for a good-sized tub – and growing it this way makes protecting it through the winter very straightforward. Many of the other bulbs also make good candidates for pot growing, including ornamental Allium, Arum lily (Calla) and nerines.
Growing bulbs in pots can also be useful to start kids off with their own garden in a small way, so that the youngsters can explore their own interests and likes – and learn their own lessons – before moving on to bigger and better things. It's an educational experience, but one that's bound to be lots of fun – provided your kids aren't too competitive or given to excessive sibling rivalry, of course!
Summer bulbs are remarkably easy to grow and with their typically bright, showy flowers providing a strong splash of colour throughout the warmer months and well into autumn, no kids' garden should be without them.