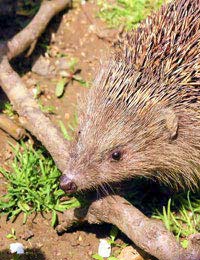 Some of us forget just how valuable a commodity wildlife can be to our gardens. Be they birds, worms, hedgehogs or spiders such wildlife in the right habitat can bring colour, life and a sense of wonderment to the garden. It can also help to keep unwanted pests at bay as well.
In addition to this wildlife in your garden is something the kids will enjoy too; as children we all loved looking at animals and watching the wildlife in our gardens flourish and go about their business as nature intended so it is important we help to pass that sense of amazement and imagination onto our children too.
Birds
Most of us have birds in our garden at one time or another but perhaps not as often as we might like or indeed the sort we might like. One way to encourage birds to visit your garden is to provide them with food and maybe even a little shelter from the elements.
A bird table makes the perfect platform for the kids to get to know the wide variety of different birds whose home and natural habitat is the British Isles. Even if you don't have a bird table hanging balls of fat or nuts from the branches of trees or bushes can attract a great many birds ranging from sparrows to crows, finches to robins, magpies to ravens: the list is endless.
Placing the bird table near to a window where the children can watch regardless of the weather is ideal and perhaps even keeping a bird handbook nearby so the children can identify the different species as they visit.
Hedgehogs
Hedgehogs are not only the gardener's friend when it comes to disposing of unwanted pests such as earthworms and weevils but they are also a source of great interest for kids.
You can encourage hedgehogs into your garden by leaving a few strategically placed pieces of wood to cover in algae or moss. Not only does this make an ideal hibernation spot for hedgehogs it also provides them with additional food in the form of snails, worms and insects which feed off the algae too.
Snails
Snails always fascinate kids with their ever searching eyes and also the trail of silver slime on which they glide along. Producing a natural habitat for snails in your garden is not difficult; in fact you would be hard pressed not to produce such a habitat because snails love moist areas such as the underside of stones or rocks, in amongst the grass or in your borders. However snails can have their downside as they make light work of the greenery on your plants. But this is where the birds come into their own along with the hedgehogs; a miniature ecosystem right outside your front door.
Further Information
Setting up a wildlife garden is not a difficult job but you can seek some expert advice if you really want to do the job right. Ask a member of staff at your local garden centre for advice on what plants and shrubs to plant in order to attract the right kind of garden visitor. Alternatively there are a wealth of children's books available which give practical advice on how to create and maintain a wildlife garden for your kids' enjoyment and education.