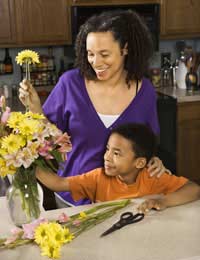 Children who enjoy working in the garden will love seeing the fruits – or flowers as the case may be – of their labours be admired by the entire family. While it can be hard to set up a family viewing of a perfectly manicured lawn or brilliantly blossoming patch, it is much easier to bring the garden inside. Helping your child create a table centrepiece to show off his/her hard work will not only allow the whole family to celebrate this achievement, but it will allow you some quality time with your green-thumbed gardener and help motivate him/her to continue producing such beautiful bounty. Even if your own gardening abilities run towards purchasing potted plants, there is much that parents and kids can take from their own gardens and use to create innovative centrepieces.
Centrepiece Design
Before you and your kid pull up every flower going, begin your table centrepiece with a firm design so that you know which materials you will need, how you both would like the centrepiece to turn out and how it will fit in with your table or special meal plans. Many families enjoyed table centrepieces built with a wide array of materials, including:
Floral centrepieces – made with flowers and buds from the family garden.
Natural centrepieces – made with leaves, conkers, pinecones, nuts, rocks, sand and more.
Fruity centrepieces – as easy as lemons and limes, but more meaningful if they are created with fruits from the family garden.
Recycled centrepieces – for the more abstract crowd, which allows kids to become highly creative with clean, safe items such as egg cups, tins and fizzy drink cans.
Table Centrepiece Materials
Once you and your child know how you both want the finished centrepiece to look, make up a list of all of the materials that you will need to create your masterpiece. Remember that you will likely need to cut your materials, display them in a container of some sort, and possibly even paint them to achieve the centrepiece look you desire. A likely list of necessary supplies include:
Scissors or knives to be used by adults or under adult supervision only.
Old newspapers to spread across the work surface and collect debris.
A vase, pitcher, bowl, milk bottle, egg cups or whatever else you plan to use to contain the centrepiece(s).
Styrofoam ball or clay to use inside the containers to keep items in place and/or upright.
String.
Glue.
Ribbon, sparkles and/or paint to put on the finishing touches.
Centrepiece Display
Whether you have designed your table centrepiece to cheer up the kitchen or to be the focal point of a family meal, your child will glow with pride if (s)he is given the credit that (s)he deserves. Consider adding a small label to plant pots proudly displaying your kid's name, or even a little stand-up card alerting guests to who donated the gorgeous centrepiece. Not only does giving credit where credit is due model good behaviour for your child, but it will encourage him/her to take his gardening and design seriously. With the proper support, you might have a professional landscaper or florist on your hands before you know it!
Creating a table centrepiece is a wonderful way for parents and children to spend time together and appreciate the materials that are available in their own back gardens. Don't worry about making a centrepiece look polished or professional, just have fun – and make sure that your kid does too.